Product Categories
Just Plain Soap – 5oz bar
All purpose soap for hand and body, laundry, and general cleaning.
Ingredients: Distilled water, Coconut oil* (Cocos nuc.), Palm oil* (Elaeis guin.), Tallow* (local source grass fed beef fat), Olive oil* (Olea euro.), food grade Lye (sodium hydroxide) and Castor seed* oil. *organic source, sustainably produced.
Since ancient times lye soap made with animal fat was the best cleaning product in climates where coconut oil wasn't available. Now the two make a balanced soap that cleans while being kind to skin. Just Plain Soap is a good laundry soap and a good basic sink or bath tub soap. See the recipe and photos of the process at http://www.gingerhollow.com/herbal-recipes/homemade-laundry-soap-recipe
Large bars average 5.0oz or more.
HaNaRa Oil Blend 5ml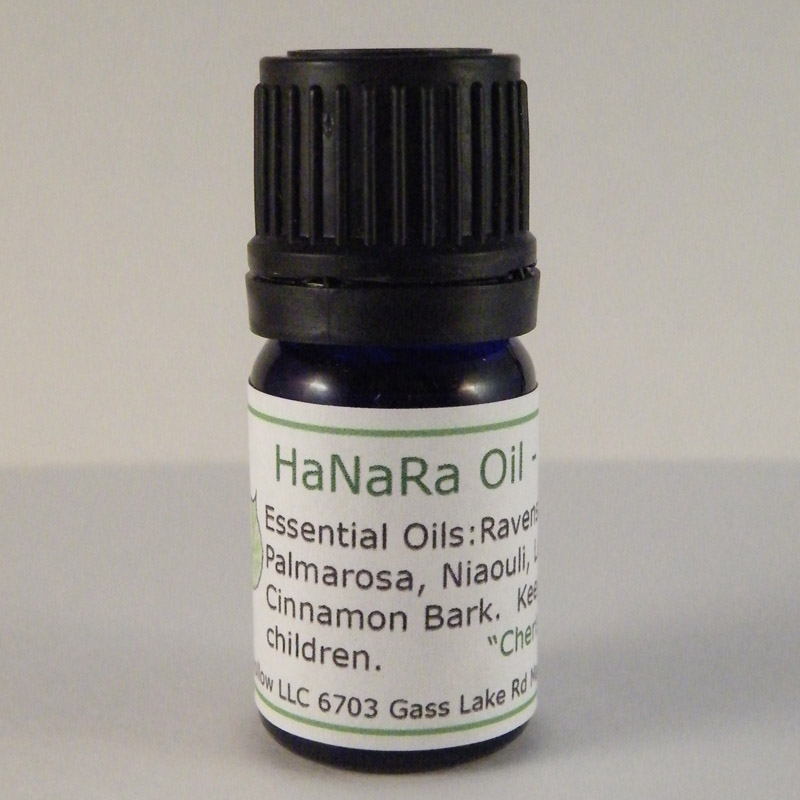 Confronting stressful times with ancient wisdom.
Ha Na Ra Oil is a unique essential oil blend from Ginger Hollow, designed by an Aromatherapist to confront the H1N1 and other flu viruses. The first ingredient is Ravensara essential oil, and inspired the Ra in the name. The oils are steam distilled from plants and trees that have been used for centuries as remedies by indigenous peoples in many countries.
It has long been known that stress decreases the body's ability to fight off disease and infection. Ha Na Ra Oil approaches the body/mind/spirit dimensions as a holistic tool. When inhaled essential oils directly affect the brain influencing the limbic system, (the emotional center), to improve mood. Also affected is the prefrontal cortex which controls motor activity, energizing or relaxing. The immune system benefits because the oils are known antiviral, antibacterial, and antimicrobial agents.
Ha Na Ra Oil is made of pure essential oils, undiluted – no carrier oil, a concentrate, not a perfume and should be used sparingly. Used as directed Ha Na Ra Oil may reveal many benefits to the attentive user.
Ha Na Ra Oil, essential oil blend, is meant to be inhaled for 5 minutes several times a day, especially during flu season. Wonderful to clear "brain fog" as well as a mood lifter, Ha Na Ra Oil has an immediate effect. The small bottle fits easily in a pocket or purse to have handy as needed. Follow directions to dilute a few drops in a carrier oil such as almond, jojoba or sesame oil to rub on the chest if cold symptoms are a challenge. Though it's a small bottle it can be long lasting if primarily used for inhaling. For the esoteric minded, HaNaRa Oil resonates to 7. Purchase comes with an informative pamphlet.
More Details
Essential Oils in Ha Na Ra Oil These oils are not diluted and are from eco responsible ethical producers. Ravensara: (Ravensara aromatica). The native people of Madagascar traditionally value this tree, said to have powerful anti-viral and antibacterial properties. Essential oil from the leaves is thought to help prevent, or ease, discomfort related to colds and the flu. Not known to cause allergic reactions. Palmarosa: (Cymbopogon martinii) Traditional to native Pacific cultures who use this grass to calm the mind and aid clear thinking in times of stress. Also said to be a powerful antimicrobial and antiviral, that stimulates the circulatory and nervous systems, it is used to speed healing. Considered to be non-toxic, and non-irritating. Niaouli: (Melaleuca quinquenerva) Native Australians historically used the leaves of this tree as a powerful antiseptic. The oil has been used for centuries to treat infections, respiratory problems and wounds. Even in small amounts it is said to be potent, but safe and non-toxic. Lemon oil: (Citrus limonum) Derived from lemon peel, this oil has historically been used in many cultures for it's powerful antibacterial action; also said to stimulate the body to produce white blood cells to fight infections. The uplifting aroma helps to focus ones energy on healing especially during stressful times. Cinnamon bark: (Cinnamomum zeylanicum) Famous since ancient times for use in food and medicine. The essential oil distilled from the bark and leaves is in demand as a powerful anti-viral and anti-bacterial oil. In small amounts its warm, spicy aroma is also uplifting. In stressful times this oil helps to calm and enable clear thinking. Because of its long history and widespread use cinnamon is a universal comfort aroma. Ha Na Ra Oil – Suggestions for personal use Inhale: Use 1 drop on a tissue, or a warm, moist terry cloth, and inhale aroma while breathing slowly and deeply for 5 minutes. Repeat hourly or as desired. Or simply inhale the open bottle for an instant, breathe deeply and evenly, and repeat, for no more than 5 minutes at one time. It may be applied, 1 to 3 drops, to a facemask during flu season. Hand/foot bath: Use 1 to 3 drops in a gallon of warm water for either a hand or footbath. Wash hands or feet first, before soaking in the footbath. Soak for 15 minutes, gently massaging the palms of the hands or soles of the feet while inhaling the Ha Na Ra Oil aroma. Acupuncture theory claims that the body's energy meridians exit at the hands and feet, so massage of hands and feet, with a bath, helps to regain balance. Dilute: If desired dilute in olive or other food grade vegetable oil. Use 3 drops Ha Na Ra Oil in 1 tablespoon of the vegetable oil. This is a 1% dilution suggested for children or frail individuals. (1 tablespoon = 300 drops).
Safety notes
The intended use is to be inhaled as suggested above. Any other use is the responsibility of the user. Though this formula has been very gentle in use it is a concentrate. Keep out of reach of children. Pregnant women or anyone concerned about the safety of Ha Na Ra Oil should consult their health professional but please provide this brochure when doing so. The bottle has a unique Euro style dropper insert to avoid spills. Pour carefully to avoid excess. Ha Na Ra Oil may be washed off with soap and water. Avoid getting in eyes or on mucus membranes. Discontinue use if irritation or sensitivity occurs.
This information is for educational purposes only. Seek the advice of an appropriate primary professional for medical needs or concerns. Essential oils can support self healing. Holistic healing may result from many factors.
Rejuve-Calm Oil Blend 5ml
Confronting stressful times with ancient wisdom.
Using essential oils, either singly or in blends, can enhance the quality of life. They add a dimension of sensual experience that affects emotions positively and influence physical well-being. This is helpful in times of stress, whatever the cause.
Rejuve-Calm Oil- to ease stress and uplift the mind.
Rejuve-Calm Oil is diluted in a 1 to 2 ratio with fractionated coconut oil, a stable skin safe natural oil, for ease of use. It makes the formula a bit thicker and less likely to drop out at a faster rate than desired. The special cap on the cobalt blue bottle is called a "Euro cap" and has an insert that dispenses the oil in drops. It is easily removed if desired.
Rejuve-Calm Oil may be further diluted for other aromatherapy applications by adding 3 drops to a half fluid ounce of unscented food grade oil such as almond, for a 1% dilution. Low dilutions are most effective for healing.
More Details
Numbers & Healing
The name Rejuve-Calm resonates to 11, a number long associated with higher consciousness in the system called numerology, used for thousands of years by healers. Sandalwood has a long history of use in healing of mind and body and is the base of this blend. The other oils were chosen because of their qualities for addressing emotional healing which affects all levels of being. Emotional healing speeds physical and mental healing and opens our mind and heart to the spiritual however we understand that. The number of drops resonates with the number 7 which is the number of creative change, of transmutation and transformation.
How to use Rejuve-Calm Oil
Rejuve-Calm Oil is an aromatherapy formula best used with a brief period of reflection at least once a day. Rejuve-Calm is used by inhaling it directly from the bottle or by placing a few drops on a tissue and then inhaling from the tissue for 5 minutes when feeling stressed. The intent is that Rejuve-Calm Oil will help the individual to:
calm emotions,
help mental focus to understand stressful situations,
enhance confidence to refocus energy toward what is desired,
feel revitalized and able to move ahead in healthy self expression.
Rejuve-Calm Oil is useful for those
feeling stressed at home or work,
feeling anxious in social situations,
feeling worried about health issues.
who see the need for change and want to start new,
who are caregivers.
Rejuve-Calm approaches the body/mind/spirit dimensions as a holistic tool. It is a concentrate, not a perfume, and should be used sparingly. It is not meant for use in diffusers and such use is the responsibility of the user.
The essential oils used in Rejuve-Calm are:
Sandalwood (Santalum album) Is used to heal skin ailments and stimulate the immune system. It is calming, brings inner peace to those with anxiety, is an aphrodisiac and opens the sacral and brow chakras. Sandalwood is a highly prized ancient elixir that is used for anointing and blessing but it is becoming scarce.
Ylang Ylang (Cananga odorata) is euphoric and uplifting. It eases feelings of anger, anxiety, aggression, depression, shock, panic and far. Ylang Ylang balances hormones and eases female difficulties. It opens the heart and throat chakras, inspires acceptance, joy, love and peace.
Cardamon (Elettaria cardamomum) A gentle oriental spice that is stimulating and awakening, an aphrodisiac, enjoyed in food and perfumes. It is uplifting, and opens the sacral chakra.
Bergamot FP(Citrus bergamia) A sparkling fresh aroma from the peel of a citrus related fruit grown in Italy and other Mediterranean countries. Bergamot inspires joy, helps concentration, emotional balance and motivation. It opens the heart chakra.
Lavender (Lavandula angustifolia) An aroma famous since ancient times. Much used in baths, it's popular uses are as antiseptic, analgesic, anti-inflammatory, aids cell regeneration, calming, sedating. This aroma is uplifting and helps mental clarity, combats brain fog and fatigue. Lavender balances all the chakras.
Clary Sage (Salvia sclarea) Originates in Bulgaria, France or Russia. The floral, nutty aroma has a calming effect and with Bergamot is useful for balancing mood. An old favorite for women's needs, it helps to restore tranquility and to feel revitalized. It opens the third eye chakra.
Rejuve-Calm Oil is made from GC/MS analyzed essential oils to assure highest quality and therapeutic grade.
Avoid getting in eyes. Dilute before applying to skin. Washes off with soap and water. Supervise children in use of this product.
Ginger Hollow oil blends are produced, from the finest individual essential oils, in small batches, by Ruth Nielsen, aromatherapist and herbalist, following the tradition of Vitalism taught by Dr. John R. Christopher, ND. Vitalism is a philosophy from ancient times which treats the person as body/mind/spirit and believes in self healing.
This information is for educational purposes only. Seek the advice of an appropriate primary professional for medical needs or concerns. Essential oils can support self-healing. Holistic healing may result from many factors.
Clear & Fresh Soap
Large bars, average 5.5oz (162g) or more.
Created for acne prone and oily skin, the rich lather soothes while the refreshing oils and herbs cleanse, tone and assist cell regeneration.
Soybean oil (Glycine max), expeller pressed coconut oil (Cocos nucifera), distilled water, witch hazel extract in alcohol, sodium hydroxide, organic olive oil (Oleo europaea), organic herbs: comfrey root (Symphytum officinale root), Chamomile (Anthemis nobilis), Peppermint (Mentha piperita), Nettles (Urtica dioica), Black walnut (Jugulans nigra), infused in organic oils of Canola and Hemp seed (Canabis sativa), Candellia wax, essential oils of Eucalyptus radiata, Lavender off., and Peppermint.
Patchouli Amber Soap
Large bars, average 5.5oz (162g) or more.
Distilled water (Aqua), expeller pressed Coconut oil (Cocos nucifera), Olive oil (Olea europaea), organic Palm oil (Eleais guinnesis), Sodium hydroxide, organic Canola oil (Canola), Hemp seed oil (Cannabis sativa), organic Sunflower oil (Helianthus annuus), essential oils of Patchouli (Pogostemen cablin), organic French Lavender (Lavendula augustifolia), Amber Pure & Simple blend, Chamomile blossoms (Anthemis nobilis).
Lemongrass Soap
Refreshing, lively, citrus-like blend of oils are insect repellant as well
as soothing. Apricot kernel helps skin exposed to weather.
Ingredients: Tallow, distilled water, expeller pressed Coconut oil (Cocos nucifera), Olive (Oleo europaea) fruit oil, Sodium hydroxide, Apricot kernel oil (Prunus armeniaca), essential oils of Lemongrass, Lavender, Niaouli, Citronella, Bergamot.
Large bars average 5.5oz (157g) and over.
Koala Soap Large Bar
Gentle cleansing, rich lather, antibacterial, antifungal, hand and body soap for the whole family. Crisp menthol type aroma. All vegetable oils.
Ingredients: expeller pressed Coconut oil (Cocos nucifera), olive oil (Oleo europaea), Palm oil (Elaeis guineeneis), distilled water, sodium hydroxide, candelilla wax, aloe vera gel, jojoba oil (Simmondsia chinensis), hemp oil (Cannabis sativa), Peppermint leaf (Menta piperita), borax, essential oils of Melaleuca alternifolia (Tea Tree), Eucalyptus radiata, Eucalyptus globulus, Mentha piperita (Peppermint), Lavandulus officinalis.
Large bars average 4.0oz and over.
Pages: 1 2Next >Last »